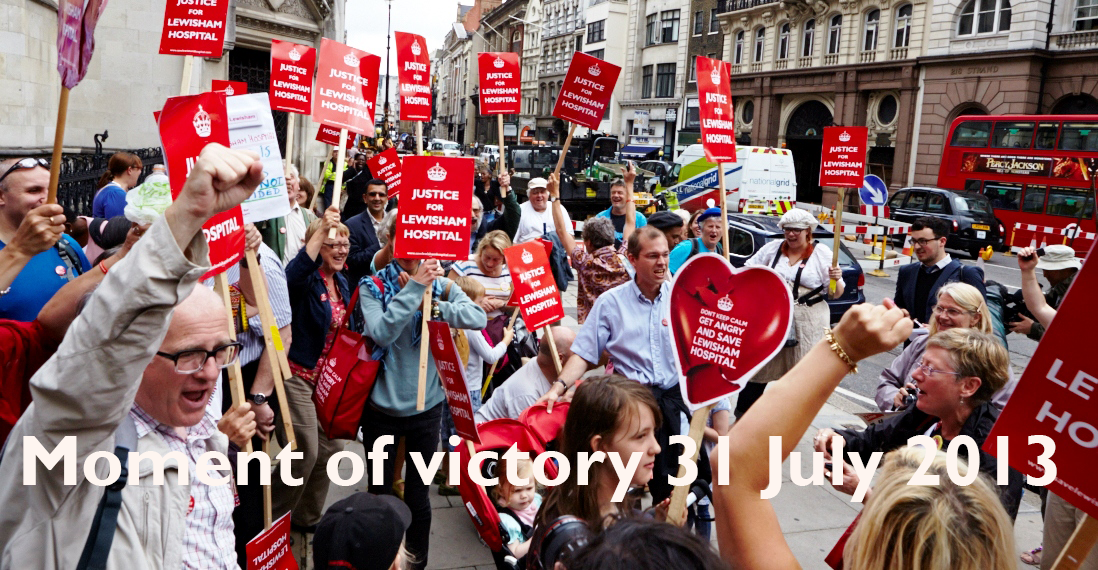 SECOND ANNIVERSARY OF OUR COURT VICTORY
On 31 July 2013 we won a tremendous legal victory over the government and kept our hospital open. See videos, press and TV from that day and the legal judgement click here and info on appeal here  
Since then we have campaigned against law changes, on local community services and with other hospital campaigns defending their hospitals and the NHS.

WILL WE NEED TO SAVE LEWISHAM HOSPITAL AGAIN?
SIGN THE PETITION NOW! CLICK HERE!
Once more our Campaign is on high alert. We fear plans are being made, once again, which may involve closing Lewisham Hospital and selling off its site. We have noticed that the latest South East London healthcare strategy document (Our Healthier South East London) uses arguments for reconfiguring NHS services in south east London that are very similar to those used by the Trust Special Administrator – who in 2012 proposed closing essential services at Lewisham Hospital: A&E, maternity, intensive care, medical, surgical and children's wards. The message from the Lewisham community remaints the same. WE NEED OUR HOSPITAL.
Sign the petition here. Read more…
CRASH CALL FOR THE NHS EVENT ON 22 AUGUST 2015
A day of action for the NHS took place on Saturday August 22. Louise Irvine, chair of our campaign, was one of the speakers.with Dr Jackie Davies, Anne Drinkell, Charlotte Monro, Dr Bob Gill, and many other doctors, nurses, medical professionals and patientsSee https://www.facebook.com/events/924528464275056/
---

WE MARCHED on 20 JUNE WITH 250,000 PEOPLE OPPOSED TO AUSTERITY
We oppose the cuts that are taking place in Lewisham Hospital and health services and throughout the whole NHS.  


GREEK SOLIDARITY FILM EVENING FROM SLHC CAMPAIGN
Mon 27 April organised by our campaign in solidarity with an Athens Hospital and clinic. For report on film evening part of the New Cross/Deptford Free Film Festival click here


CHARLOTTE MONRO HAS BEEN REINSTATED BY BARTS HOSPITAL TRUST!!!!!! WHAT A PRINCIPLED STAND! WHAT A VICTORY! Read Charlotte's statement and Barts Trust statement here  31 March 2015 and the history of her long fight.

COMMUNITY CARE – NEW REPORT PUBLISHED SHOWS DECLINE IN SERVICES Community care is an often almost invisible but vital web of support for the most vulnerable in our society receiving care outside hospital and often in their own homes. The report highlights worrying changes Read more, download the report here 

NO OUTSOURCING OUR SERVICES: CAMPAIGN HANDS IN 3600 LETTERS 12 March 2015, a group from the campaign including Lewisham GPs Dr Louise Irvine and Dr Brian Fisher, Lewisham GPs, handed in 3600 letter to government quango Monitor from Lewisham patients requesting Lewisham services remain within the NHS. To read more click here.  

NHS REINSTATEMENT BILL PRESENTED IN PARLIAMENT BY CROSS PARTY MPS Groups of health campaigners including the Save Lewisham Hospital Campaign, KONP, Call 999 NHS, Save St Helier Hospital Campaign, and Ealing Hospital campaign came to show support for the bill. Click here to see pics and short interview with bill drafter, Peter Roderick
S

AVE LEWISHAM HOSPITAL CAMPAIGNER GETS QUESTION TO CAMERON In an incredibly stage-managed and biased 'Leaders debate' on Sky/Channel 4 with wannabe Tory candidate Jeremy Paxman, Lewisham campaigner Vicky Penner managed to get a question to Cameron on the NHS. Vicky's question follows a first question, on privatisation. To view click here 

LATEST ISSUE OF HEALTH EMERCENCY ONLINE
FROM JOHN LISTER – EXCELLENT SUMMARY OF CURRENT STATE OF NHS AFTER 5 YEARS OF TORIES
Read here  

A PERSONAL GLIMPSE OF THE US HEALTH SYSTEM A personal and very revealing account from a US citizen now living in the UK. Click here.
DEFEND LONDON'S NHS RALLY 10 MARCH, HAMMERSMITH A contingent from Lewisham attended the successful rally of over 500 people. Speakers included Dr Sandhu, Andy Slaughter MP, Dr Louise Irvine, Owen Jones, Click here  for pictures.

STRIKES OF ISS WORKERS AT QE HOSPITAL Over 200 GMB members are employed by  private contractor ISS at Queen Elizabeth Hospital in Woolwich. They have carried out successful one day strikes and were threatening strike for 5 days beginning9 March. Read more about the issues involved.

STAFFORD HOSPITAL PROTEST CAMP HAS ENDED! WE SALUTE YOU! Since July 18 Support Stafford Hospital campaigners have camped out in the hospital grounds as part of their fight to stop the transfer of services and downgrading of the hospital. The camp was dismantled on Saturday 31 January after campaigners had protested for 197 days. Read more

WINNING THE BEST COMMUNITY CARE – VIDEO AND NEW QUESTIONNAIRE The Save Lewisham Hospital Campaign is proud to announce the release of a film by Stuart Monro of Winning the Best Community Care events put on by the SLH campaign together with Lewisham Healthwatch. To watch the video and to find out more  click here.

STOP ACADEMIES IN LEWISHAM! Academy plans are being mooted for Bonus Pastor, Prendergast Hilly Fields, Prendergast Ladywell Fields, Prendergast Vale and… Sedgehill. To view information, voice concerns, find out about campaigns, lobbying and other actions visit https://www.facebook.com/StopAcademiesinLewisham. Students, parents and staff have been taking action today, 5 March. Follow the campaign on twitter @SAILewisham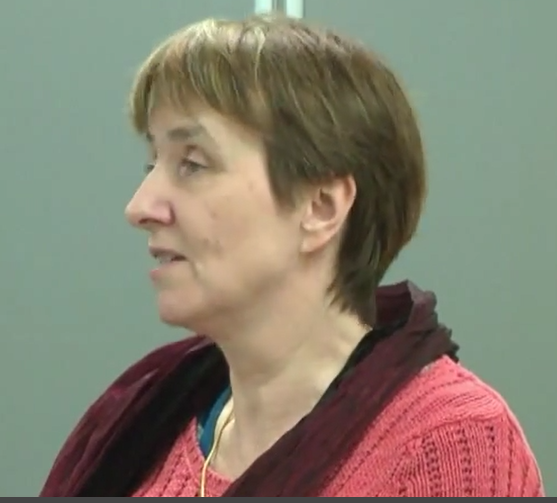 SAVE LEWISHAM HOSPITAL CAMPAIGN SOLIDARITY WITH GREECE HOSPITAL & CLINIC Louise Irvine took part in a 3 day intensive investigation with a British delegation of conditions in the  Greek health service. See a video of her talking about the delegation here. Since then the campaign has voted to begin solidarity actions on behalf of the Greek health services.
999 CALL FOR THE NHS CONVENTION FOR THE NHS SAT 28 FEBRUARY 11.30-5PM Hammersmith Town Hall, King Street, London W6 NJU. A day of planning and campaign workshops. See 999callfornhs.org.uk to register

TTIP EVENT IN LEWISHAM TUESDAY 24 FEBRUARY 7.15 – 9PM Lewisham civic centre Tuesday 24 February will  be hosting an open evening, supported by a range of organisations,  for every one concerned about, or wanting to  understand what TTIP is all about. this is a free event . TTIP will have major  impact on NHS. workers rights. privacy laws and the environment. Click here to find out more about TTIP.

A  PRESENT FOR THE CAMPAIGN! THANK YOU DAVE LOCKETS To see a wonderful picture from local artist Dave Lockets click here . Dave said "To the Save Lewisham Hospital Campaign: Please find the enclosed image of my painting which I thought you might like to see. Your campaign will certainly be long remembered and I know it is not finished…"

DAVID OWEN NEW BOOK INCLUDES PEOPLE'S COMMISSION We are very pleased that Lord Owen, who campaigns passionately against the Health and Social Care Act, has included a chapter on the Lewisham People's Commission (which he spoke at) in his latest book The Health of the Nation, NHS in Peril. See People's Commission page for more information and to order the full set of Commission DVDs and Report.
WHAT IS THE CARE.DATA SCHEME AND WHY SHOULD WE OPPOSE IT? GP practices across England have been  required to supply patients' personal and confidential medical information to the Health and Social Care Information Centre. Is your data safe and how could you opt out? Click here for more information

RIVOLI FUNDRAISER AND VICTORY CELEBRATION FANTASTIC SUCCESS! A great night at the Rivoli on Friday 28th October. Thanks to all our supporters – 500 of you came along to make it a TRULY memorable anniversary of our victory. MASSIVE thanks to Rivoli owner Bill,  Millwall Football Club, Tina T'urner Tea Lady, Hoola DJ DA 'Lynne and Lord Anthony Read more thanks and see short video here 
NHS NURSES MIDWIVES, STAFF ON STRIKE AGAINST LOW PAY The SLH campaign supported nurses, midwives and other NHS workers on the picket line at Lewisham Hospital in the NHS strike years on Monday 24 November.  Staff at Queen Elizabeth Hospital, employed by private operator ISS were also on strike this week – they want parity with NHS staff. Click here to find out more and see photos and video.

UP TO 20,000 PEOPLE GATHERED TO MEET THE DARLO MUMS AND THE 999 PEOPLE'S MARCH FOR THE NHS. The People's March for the NHS followed the historic footsteps of the Jarrow Crusade. See photos and links and read more…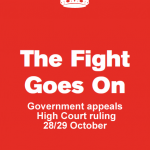 NHS ARTICLES – KEEP YOURSELF INFORMED Do you have an article to recommend? Let us know.  Have you read Allyson Pollock's report on PFI in South London? Read more…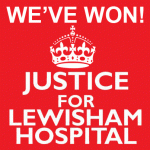 31 JULY WAS THE ANNIVERSARY OF OUR FIRST COURT VICTORY AGAINST JEREMY HUNT'S PLANS TO EFFECTIVELY CLOSE LEWISHAM HOSPITAL Click here and here (scroll down to 31 July) to visit the memories of that great day! We haven't forgotten Mr Hunt and we are continuing to defend our hospital and health services against cuts and privatisation and to support other campaigns.

5 YEAR STRATEGIES PUBLISHED BY LEWISHAM AND GREENWICH NHS TRUST AND ALSO BY SE LONDON 6 BOROUGH CCGs Click here and here to download and read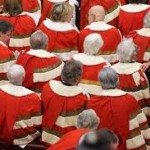 VESTED INTERESTS IN THE LORDS AND PARLIAMENT – VOTING TO PRIVATISE OUR NHS See the information below from Social Investigations – a very long list of parliamentary financial links

LEWISHAM PEOPLE'S COMMISSION DVD AND REPORT NOW OUT AND AVAILABLE TO BUY ON LINE Published 27 November the full report of the evidence submitted by clinicians, patients and the community to the Commission in June 2013 Click here to download report or buy report and video

LEWISHAM AND GREENWICH TRUST DECIDES AGAINST SERCO! The Save Lewisham hospital Campaign is delighted that following lobbying from our and other SE London campaigns Lewisham & Greenwich Trust (LGT) has against a contract with SERCO Click here to read statement from hospital and more information.

WE SUPPORT OTHER CAMPAIGNS The Save Lewisham Hospital Campaign supports other campaigns in their fights against cuts and closures. Read more…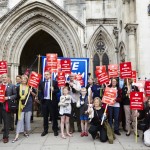 WE WON THE APPEAL! 29 OCTOBER 2013 Click here to see press coverage Click here to read Day 1 court report and more about our legal case and the Appeal
Click below to revisit some of our campaign history