CHARLOTTE MONRO TRIBUNAL BEGINS 20 JANUARY PLEASE SUPPORT!  SIGN PETITION!
Charlotte's Employment Tribunal begins 20 January. SLH Campaign is supporting.  Please assemble 9.30 at Anchorage House, 2 Clove Crescent, London E14 2BE.  Gathering solidarity and support for Charlotte is still essential. For full information on case click here. To see petition update and sign click here NOW!

WINNING THE BEST COMMUNITY CARE
The Save Lewisham Hospital Campaign is proud to announce the release of a film by Stuart Monro of the Winning the Best Community Care events put on by the SLH campaign anti-marketisation group together with Lewisham Healthwatch. To watch the video click here, to find out more about the events, click here.

A  PRESENT FOR THE CAMPAIGN!
To see a wonderful picture from local artist Dave Lockets click here (sorry Dave I couldn't read your second name…) Dave said "To the Save Lewisham Hospital Campaign: Please find the enclosed image of my painting which I thought you might like to see. Your campaign will certainly be long remembered and I know it is not finished…"

OUR CHRISTMAS VISIT TO OUR FRIENDS AT THE SUPPORT STAFFORD HOSPITAL CAMP
On Friday 19 December a group of campaigners paid a Christmas visit to the Support Stafford Hospital camp outside Stafford Hospital. It was dark and windy but the welcome was warm and the mood steadfast. Things are at a critical stage with the loss of maternity and children's services imminent. A&E is already reduced. See pictures …

NEW BOOK FROM DAVID OWEN INCLUDES PEOPLE'S COMMISSION
We are very pleased that Lord Owen, who campaigns passionately against the Health and Social Care Act, has included a chapter on Lewisham and the People's Commission (which he spoke at) in his latest book The Health of the Nation, NHS in Peril. See People's Commission page for more information and to order the full set of Commission DVDs and Report.

VIGIL AND MEETING AROUND EFFORD BILL NOVEMBER 21ST 2014
Our campaign held a successful vigil outside Parliament 0n Friday 21 November) as Clive Efford's NHS Bill was debated inside Parliament. Click here to see video from Stuart Monro. We also held a  successful meeting inside Parliament attended by over 50 campaigners from London and the rest of the country.  Clive Efford spoke at length and was closely questioned by campaigners about the bill and Labour's plans – click here for more information .
SAVE OUR SURGERIES WINS HISTORIC COURT CASE ON PATIENT INVOLVEMENT NHS England "acted unlawfully" over GP cuts, says High Court. Save Our Surgeries campaigners have scored a significant victory against NHS England, as the High Court found in favour of east London patient Danny Currie on 25 November 2014. Read more...

RIVOLI FUNDRAISER AND VICTORY CELEBRATION FANTASTIC SUCCESS!
A great night at the Rivoli on Friday 28th October. Thanks to all our supporters – 500 of you came along to make it a TRULY memorable anniversary of our victory. MASSIVE thanks to Rivoli owner Bill,  Millwall Football Club, Tina T'urner Tea Lady, Hoola DJ DA 'Lynne and Lord Anthony Read more thanks and see short video here

BANNER THEATRE PERFORMANCE OF 'IN A RIGHT STATE' WHICH INCLUDES MATERIAL ABOUT THE LEWISHAM HOSPITAL CAMPAIGN
Saturday 29th November 2014, In a Right State Lewisham Trades Council, Wickham Arms, 69 Upper Brockley Road, London, SE4 1TF, 7pm Click here for information

REPORT OF DELEGATION TO GREECE
Louise Irvine gave an extremely informative talk at the Campaign general committee meeting on the situation in Greece. She has just returned following a 3 day intensive investigation with a British delegation. See video of her talk here
NHS NURSES MIDWIVES, STAFF ON STRIKE AGAINST LOW PAY
The SLH campaign supported nurses, midwives and other NHS workers on the picket line at Lewisham Hospital in the NHS strike years on Monday 24 November.  Staff at Queen Elizabeth Hospital, employed by private operator ISS were also on strike this week - they want parity with NHS staff. Click here to find out more and see photos and video.

TUC MASS DEMONSTRATION ON LOW PAY SATURDAY 18 OCTOBER
Because the issue of low pay is so important in the context of the NHS, we took our big blue campaign banner on the march on Saturday 18 October. For pics and video click here

TTIP DEMONSTRATION SATURDAY 11 DECEMBER
Find out about what TTIP is, how it could unleash mass privatisations onto the NHS and what we must do to oppose it. Click here to read more


UP TO 20,000 PEOPLE GATHERED TO MEET THE DARLO MUMS AND THE 999 PEOPLE'S MARCH FOR THE NHS. The People's March for the NHS followed the historic footsteps of the Jarrow Crusade. See photos and links and read more…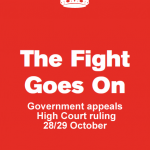 NHS ARTICLES - KEEP YOURSELF INFORMED
Do you have an article to recommend? Let us know.  Have you read Allyson Pollock's report on PFI in South London? Read more…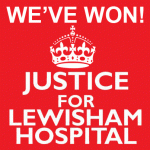 31 JULY WAS THE ANNIVERSARY OF OUR FIRST COURT VICTORY AGAINST JEREMY HUNT'S PLANS TO EFFECTIVELY CLOSE LEWISHAM HOSPITAL
Click here and here (scroll down to 31 July) to visit the memories of that great day! We haven't forgotten Mr Hunt and we are continuing to defend our hospital and health services against cuts and privatisation and to support other campaigns.



 LOUISE IRVINE AND  THE CAMPAIGN HAVE A LETTER IN GUARDIAN 31 JULY
"If the takeover of services continues at the current rate it will be too late to reverse Read more… Also see our website for the campaign's letters to Monitor from Lewisham residents and to download letter to Monitor for your campaign to use with people in your area to highlight the government's privatisation agenda.

SAVE LEWISHAM HOSPITAL CAMPAIGN TAKES PART IN EID FESTIVAL AT MOUNTSFIELD PARK
250 people signed the letter to Monitor which was a wonderful response from Lewisham's Muslim community and a good demonstration of the depth of feeling there is that people do not want private companies taking over  health services. Read more… 
OUR SUPPORT FOR THE SUPPORT STAFFORD HOSPITAL PROTEST CAMP
SLH supporters visited the Stafford Hospital protest camp again on 9 August to give our solidarity. The camp continues to grow. Click here to see video interview with two of the campaign leader. Read more and see photos.




5 YEAR STRATEGIES PUBLISHED BY LEWISHAM AND GREENWICH NHS TRUST AND ALSO BY SE LONDON 6 BOROUGH CCGs
Click here and here to download and read



SAVE OUR SURGERIES DEMO ON SATURDAY 5 JULY
We took the SLH vulture on the Tower Hamlets Save Our Surgeries demo on Saturday 5 July – a long march for those carrying the weighty beast – lots of support from the community. The NHS England withdrawal of funds is leading to proposed closure of 6 much-needed surgeries. Click to see photos and video of rally.



WINNING THE BEST COMMUNITY CARE EVENT SATURDAY 14 JUNE 2014
Organised by the Save Lewisham Hospital Campaign anti-marketisation working group together with Healthwatch. Click here to see photos from the event – click here to read more about what has been happening. Click here if you want to send us a story…




SLH CAMPAIGN  HANDS IN MORE THAN 2000 LETTERS FROM LEWISHAM RESIDENTS TO MONITOR ON TUESDAY 24 JUNE
A noisy protest outside Monitor HQ was followed by a handing in of the letters. Click here to see photos and videos. Great support from Unite and Save our Surgeries


KEEP OUR ST HELIER SAFE BUGGY ARMY PROTEST SATURDAY 10 MAY
SLH campaigners joined campaigners fighting to keep St Helier Hospital as a local hospital for local people on Saturday 10 May. Click here to see pictures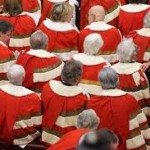 VESTED INTERESTS IN THE LORDS AND PARLIAMENT – VOTING TO PRIVATISE OUR NHS
See the information below from Social Investigations - a very long list of parliamentary financial links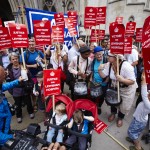 PRESS STATEMENT FROM SLH STEERING GROUP
Click here to read press statement endorsed by the SLH steering committee about use of the SLH campaign name in the council elections.



OUR AGM  TUESDAY 15 APRIL
ELECTION OF CHAIR AND OFFICERS, NEW STRATEGY AND STANDING ORDERS
Click here to find out more



LAUNCH OF ALL LONDON COMMISSION OF INQUIRY INTO THE NHS
Louise Irvine, Lewisham Campaign Chair was a member of the panel which took evidence from all over London including the Save Lewisham Hospital Campaign and Lewisham clinicians. Click here to read more




SAVE LEWISHAM HOSPITAL CAMPAIGN SUPPORTS UNITE PROTEST BY STAFF & CAMPAIGNERS FROM GEORGE ELIOT HOSPITAL, NUNEATON
Staff were protesting on Tuesday 20 March at a TDA Board Meeting in London against threats to sell off the hospital to the private sector. Click here to see read more and see photos




LEWISHAM PEOPLE'S COMMISSION DVD AND REPORT NOW OUT AND AVAILABLE TO BUY ON LINE
Published 27 November the full report of the evidence submitted by clinicians, patients and the community to the Commission in June 2013 Click here to download report or buy report and video



LEWISHAM AND GREENWICH TRUST DECIDES AGAINST SERCO!
The Save Lewisham hospital Campaign is delighted that following lobbying from our and other SE London campaigns Lewisham & Greenwich Trust (LGT) has against a contract with SERCO Click here to read statement from hospital and more information.



WE SUPPORT OTHER CAMPAIGNS
The Save Lewisham Hospital Campaign supports other campaigns in their fights against cuts and closures.
Read more…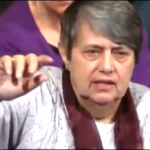 BBC QUESTION TIME – MARILYN GOES VIRAL!
One year on from the Question Time last year where our campaign dominated the programme for 20 minutes, campaign member Marilyn accused the government of using attacks on immigration to cover up privatisation of the NHS. The YouTube clip has over 90,000 hits. http://youtu.be/9DFWxd6FFW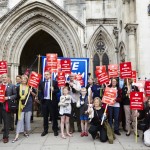 WE WON THE APPEAL! 29 OCTOBER 2013
Click here to see press coverage
Click here to read Day 1 court report and more about our legal case and the Appeal



WHAT ELSE YOU CAN DO

TO FIND OUT MORE ABOUT WHAT OUR CAMPAIGN HAS BEEN DOING AND HOW YOU CAN HELP CLICK BELOW